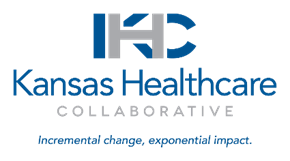 Leveraging HIE to Reduce Risk in Care Transitions
A targeted intervention for Clinics and Hospitals to improve health outcomes with care transitions
Background
In 2023, many Kansas clinics and hospitals across the state have implemented the KHIN dashboard and acute alert technology. Practical workflow applications and implementation strategies are needed to support data-driven care management processes for high-risk patients.
KHC has received a grant to conduct a care transition initiative through March 2024. This grant provides opportunities for clinics and facilities to explore how the KHIN Health Information Exchange (HIE) technology can help bridge gaps in care for high-risk patients.
Opportunity
KHC is recruiting health systems to work on improving care transitions by incorporating the KHIN/KONZA HQ Insights Dashboard and establishing a collaborative relationship between the clinic and hospital. Eligible participants will currently have the KHIN interface and dashboard access. With successful participation in the program, organizations will receive a small stipend from KHC. Other facilities affiliated with participating organizations that have access to the KHIN dashboard technology may also participate.
Why participate:
Learn ways to optimize use of your facility's KHIN/KONZA dashboard and alerting technology.

Test and implement data-driven strategies for identifying your organization's high-risk patients.

Review and strengthen workflows with health care partners.

Support your organization's 2023 goals for improving care transitions, reducing readmissions, improving interoperability, and advancing community partnerships.
Participating facilities will:
Meet with advisor for orientation and support. Complete a brief pre- and post-assessment of current practices.

Receive virtual training for how to use the KHIN dashboard and acute alerts for high-risk patients.

Identify patients eligible for Transitional Care Management by using the KHIN Dashboard.

Test a workflow change that incorporates use of KHIN technology and improved care transitions.

Establish collaborative workflow between clinics and hospitals.

Track follow-up alerts and/or care transitions for identified patients through March 2024.
The KHC Care Transition Initiative is conducted by the Kansas Healthcare Collaborative in partnership with Kansas Health Information Network and with grant funding from the COPIC Medical Foundation.
For more information, contact KHC at
This email address is being protected from spambots. You need JavaScript enabled to view it.
or
call (785) 235-0763.