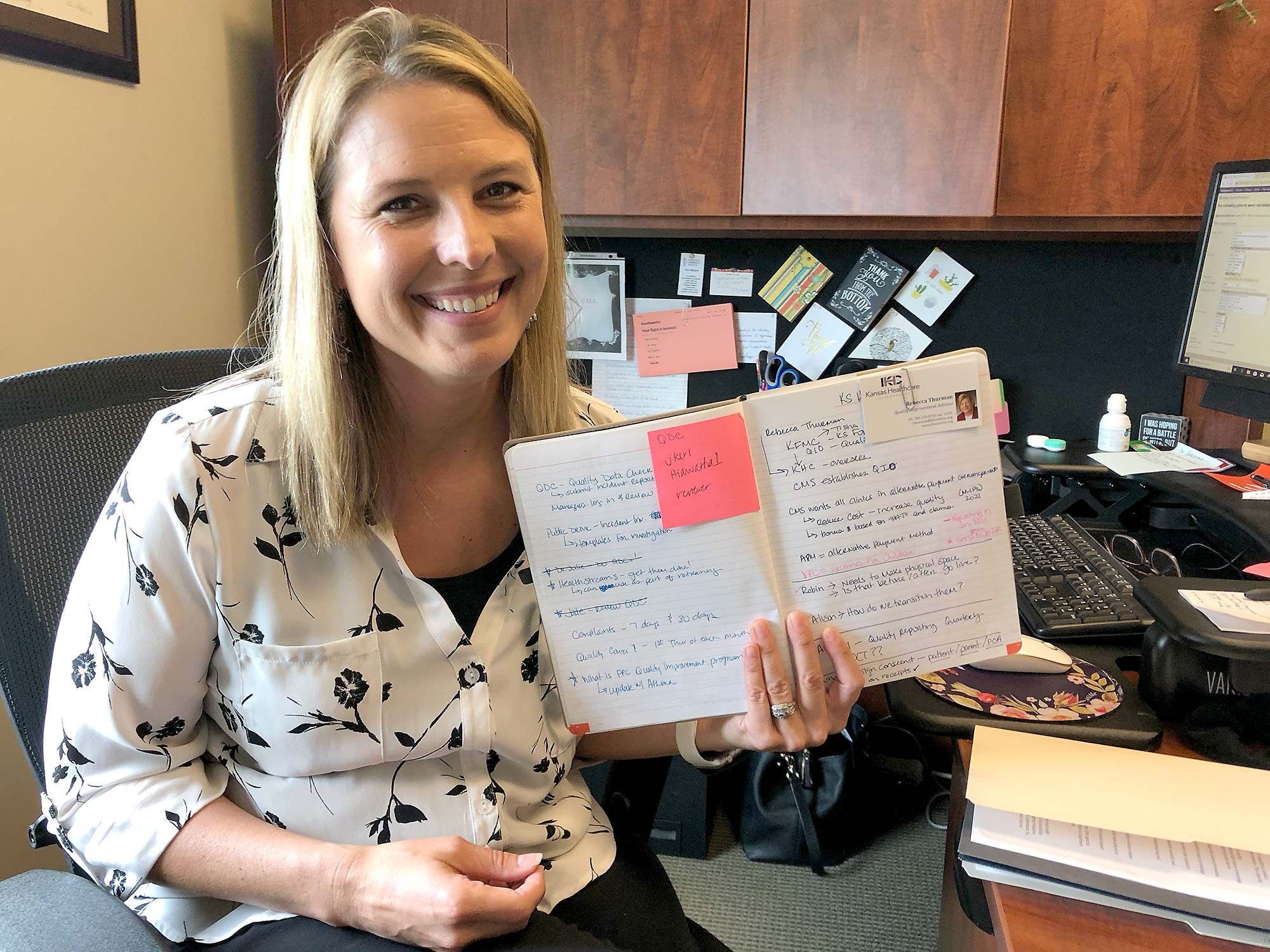 Jacquie Kerl, Hiawatha Family Practice Clinic manager, with the notebook she started during her first meeting with KHC.HIAWATHA—Jacquie Kerl still refers to the notebook she started during her very first meeting about quality improvement.
The clinic manager at Hiawatha Community Hospital keeps it with other reference material within reach of her keyboard. Clipped to the first page is the business card of Rebecca Thurman, her Quality Improvement Advisor from the Kansas Healthcare Collaborative (KHC).
"About a year ago, Rebecca showed up here on my second week on the job," Kerl said. "She broke down everything, which was crucial. And since then every time I've had a question or concern, she's been there. She's always challenging me to take the next step—to make the next incremental improvement."
Just over a year later, Hiawatha Community Hospital's Family Practice Clinic has been recognized as a "Pinnacle Practice," one of just five physician organizations in Kansas to receive the distinction in 2019, which comes with a $12,000 award.
Pinnacle Practices have excelled in efforts to steadily improve health care quality, safety, and value with patient-centered, evidence-based interventions. For example, they have employed person and family engagement, encouraging the patient and their family to partner with the medical staff in their care. Pinnacle Practices also have incorporated additional quality metrics and utilization metrics for national comparison and evaluation.
• • •
Clinic Manager Jacquie Kerl (left) and Dr. Bryon Bigham of Hiawatha Community Hospital.Clinic Manager Jacquie Kerl credits the clinic's successes to a "culture of improvement."
"The providers here—all 11 of them between this clinic and the Highland clinic—they collaborate, they talk together, they are absolutely 110% all-in on quality improvement. They lead this hospital on ensuring the best care for patients," Kerl said.
"It really helps that we have the same information on both the clinic side and the hospital side," she said. "On our side, we see about 125 patients on average every day, so we have the opportunity to touch a lot of lives every day."
Until recently the clinic had 15 exam rooms, which were continuously backed up, Kerl said. So they converted two offices to exam rooms. But they still need more space—and the Pinnacle Practice will help to that end.
"When I asked everyone what they wanted to do with the award money, they said they wanted a future-forward space to meet with patients, an interactive education space," Kerl said. "For example, they want a touchscreen with an interactive anatomy and physiology app so if, say, your arm is broken they can explain how things will go, or you're going to have an upper GI, this is how it goes."
The plan is to convert a large room filled with paper medical files to two more rooms for patients. The Pinnacle Practice award money will be used for touch screen displays and other technology for patient education.
"The idea is that we can also have rotating patient education on the screens while they're in the room waiting, such as antibiotic awareness or about cancer screenings," Kerl said. "Now we tape flyers to the back of the exam room doors, and that's ok. But a screen display with interactive quizzes or videos and things like that could be even more effective."
• • •
Hiawatha Family Practice Clinic is among 180 practices in the Kansas Practice Transformation Network (PTN), which is administered by KHC and awarded the distinction.
Rosanne Rutkowski, Program Director at KHC, said the Pinnacle Practices exemplify—each in their way—scalable successes in improving health care quality, safety, and value.
"Hiawatha Family Practice and our state's other Pinnacle Practices are among the leaders in Kansas working on patient-centered initiatives that improve quality, safety, and value," Rutkowski said. "Their experience is scalable and worth emulating."
The Kansas PTN is part of a regional network called Compass PTN, which is one of 29 regional PTNs nationwide. Together they are part of the Transforming Clinical Practice initiative (TCPi), a program of the federal Centers for Medicare & Medicaid Services aimed at:
Promoting broad payment and practice reform in primary care and specialty care;
Promoting care coordination between providers of services and suppliers;
Establishing community-based health teams to support chronic care management; and
Promoting improved quality and reduced cost by developing a collaborative of institutions that support practice transformation.
PTNs are peer-based learning networks designed to mentor and assist practices in improvement in the broad areas. A "Pinnacle Practice" is among the top 5% of enrolled practices based on reporting and phase progression.
• • •
Founded in 2008 by the Kansas Hospital Association and the Kansas Medical Society, KHC embodies the commitment of these two provider groups to act as a resource and continuously enhance the quality of care provided to Kansans. For more information visit KHConline.org/clinical-quality-improvement.